We heard it from you!
Over the years, BaroMedical has received hundreds of "Thank You" notes and testimonial writeups from our clients. Thank you all!
We appreciate this feedback very much as it allows us to change what might not be optimal and ultimately provide you with a better service.
As we would like to share this feedback you will find individual page on our site with specific testimonials attached in the left column. Some are click-able to present a more in-depth material.
Our guest book is open for anyone to express their opinion and provide us feedback on how we are doing. All entries are uncensored with exception of a few spelling mistakes.
Thank you!
Testimonials by medical category

"Thank You Very Much!!! I'll book more appointments before my next bikini bodybuilding competition."
Maria Bewcyk, - Vancouver
Physical Therapist, Exercise Scientist
Elite Personal Trainer, WBFF Athlete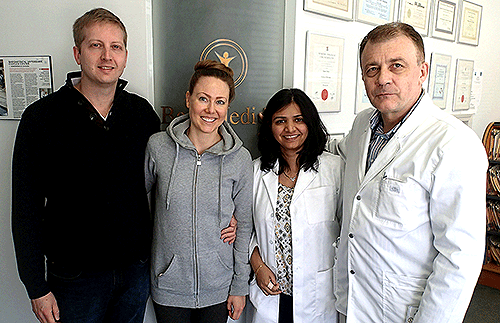 "I was extremely impressed with BaroMedical on every level. The people who work there are incredibly professional, knowledgeable, kind, supportive and wonderful to be around. The treatments themselves have been the most beneficial out of any other type of medicine I have done and I would recommend them to anyone."
Kelly H. - Vancouver, BC
Amazing story on stroke recovery. This brought us all to tears, - Happy tears :-)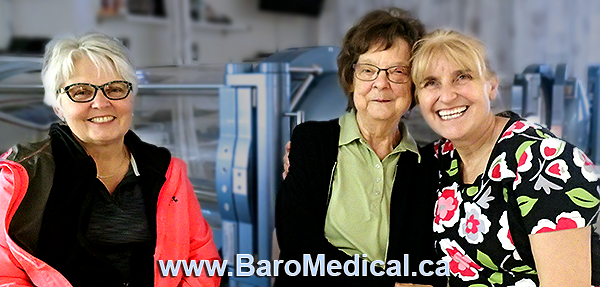 "This treatment has helped me feel like myself again. It has help my body focus on healing an incision that wasn't healing properly and has given me so much more energy. I am very grateful that I have had the opportunity to receive this treatment and will keep it in mind for the future.
An additional bonus to this treatment has been my hearing. I had slight damage to my right ear from call taking for 10 years. This treatment fixed that issue and improved my hearing :-) "
Lara B. - Vancouver, BC
"I will always be grateful to BaroMedical for taking me on as a client.
I had an ulcerating breast tumour with severe MRSA infection and had almost bled to death on numerous occasions. Thanks to the hyperbaric treatments my breast tumour is shrinking, the bleeding has stopped and the infection is all but gone.
Not many clinics would have agreed to help me in the severe condition that I was in.
My sincerest thanks to everyone at BaroMedical for their help."
Nancy P. - Tofino, BC
"A picture tells a thousand words. Thanks"
A.R. - Parksville, BC
Injury
"My mother suffered after a bad fall and was in a great deal of pain. Following (10 HBO) treatment her condition has improved significantly. She has more energy, is in almost no pain and is able to resume with her usual schedule."
A.M. - Vancouver, BC
Prevention
"I enjoyed the service of the staff and also the way they treat you. I will, and have been speaking to all my friends and family about my treatments. After only one treatment I felt better and after 5 I felt great. After that I will return for refresher therapy. I am 83 and have no problems."
H.F. - New Westminster, BC
"I am very happy to be able to work and speak again"
W.T. - Burnaby, BC
"I used oxygen therapy to heal my broken arm and be able to return to my normal life. At age 84, the hyperbaric chamber gave me strength and confidence to push the limits I couldn't 20 years ago. It kind of kick- started my body."
Graydon B., New Westminster, BC
Triple gold winner of BC Seniors Games 2014

"Hyperbaric oxygen therapy has proven to be the very best non
intrusive therapy with the most positive end results. I have tried
many natural remedies to help with the negative long term effects that
my very brittle diabetes has caused.
I would definitely recommend this therapy to everyone that needs some help. Thank you so very much."
JL.C. - Surrey, BC
Preventive care
"Facility, staff and the equipment speaks volumes of its professionalism."
F.J. - Vancouver, BC
Preventive care
"I feel 100% better and I am telling everybody about my experience."
B.H. - Vancouver, BC
Preventive care
"Even though I have only been a few times I had started to see the improvements and the staff was very well trained and kind."
I.D. - Cloverdale, BC
"Thanks for helping my knee, BaroMedical – I got a speedy recovery !"
S.C. - Maple Ridge, BC
Professional Motorsports Athlete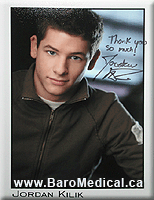 Injury recovery
"Thank you so much "
J.K. - Pitt Meadow, BC
Professional Performer
"The staff was excellent and made me feel very comfortable. They were always checking on me while in the chamber which was very comforting.
I took 20 treatments and have seen a big difference. My sugar levels are very good now, I have much more energy, sleep better at night, and the pain from the neuropathy in my feet is improved – I can walk with less pain.
You cannot put a price on your health and these treatments were worth every penny spent.
Thank you to the staff – they were great. The place was always clean.
A wonderful experience."
G.P. - Burnaby, BC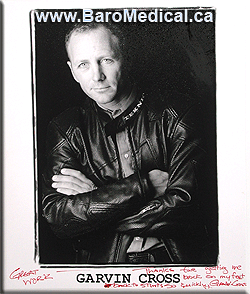 Injury recovery
"Great work. Thanks for getting me back on my feet and back to stunts so quickly"
G.C., Boundary Bay, BC
Stunt Professional
Heart surgery / Diabetes
"This treatment has given me the boost I needed to help recover from quadruple bi-pass surgery. I have also had relief from diabetic neuropathy in my feet. The overall experience has been very pleasant. I would encourage MSP to cover this valuable service. On the whole I do feel much better."
J.F. - Burnaby
Preventive care – diabetes
"I noticed my legs improving after a few treatments and also circulation. After two weeks it is completely better."
E.L. - Vancouver, BC

"The people at BaroMedical are very professional and knowledgeable. Their technology works. I started walking again after their treatment and debilitating pain in my legs disappeared. A+ "
O.A. - Vancouver, BC
"I would highly recommend BaroMedical to anyone for treatment. A first class Hyperbaric Oxygen Clinic with a first class treatment. Thanks for the care."
R.T. - Calgary, AB
Preventive care
"Staff is very professional, encouraging and friendly. I felt very comfortable and reassured. I have had 10 sessions and would like to come back for more. I saw an improvement in my blood pressure, and this will hopefully help with my energy level.
Thank you for all your help and information."
L.D. - Calgary, AB
Preventive care
"After hearing about and doing some research about hyperbaric treatment program I believed it would be a great benefit to my overall health and well being. Having issues with digestive problems etc. I have felt that the four treatments that I have taken have been very beneficial to me and the professional care and guidance are excellent."
Diana McC., Alberta
Wound care: Arterial ulcer
"I had an open, painful, smelly leg ulcer for two years and had a wound care nurse visit twice a week. She suggested oxygen therapy which helped tremendously in pain, infection and wound healing. I do not need home visits and my quality of life has greatly improved."
C.W.J. - West Vancouver, BC
Injury recovery


"In summer 2009 I have visited Dr. Sanja in her Baromedical Clinique regarding my sprain leg muscle.
I work in construction and I hit my thumb at my work so hard that I thought there was nothing left from it. That afternoon I had my appointment with Dr. Sanja for the leg issue. I went through three more visit scheduled for the leg, but my thumb hasn't gone through the color scheme, hasn't bruise, and it wasn't so painful as I expected.
At the end of the treatment (total of 5) my leg was almost recovered and my thumb was treated "free of charge" as a bonus.
Knowledgeable stuff help with the tips and advises to complete the recovery."
Z.S. - North Vancouver, BC
Ski injury recovery

"In February 2012 I had a ski accident and my left knees ligaments were twisted, sprained and almost torn. The doctors at the emergency suggested to put a cast, which would keep me off work for over 4 weeks. I called BaroMedical Clinic and book 5 appointments in 5 days. After the second appointment I was walking without any pain or discomfort. At same day my colleague had the same type injury and waited 6 months for the surgery - however it is never the same for him.
For me, I was lucky to know Sanja and Klaus at BaroMedical and to get in for the treatment on time.
Thank you!"
G.S. - North Vancouver, BC
Surgical recovery
"I had an excellent experience overall. 7 sessions definitely helped me heal faster than I ever
imagined possible. I will be back to my normal routine soon! Thank you so much. I will always refer others to this therapy."
"… It took me three weeks to recover with oxygen after my left hip surgery compared to three months when my right hip was operated…"
B.L. - Coquitlam, BC