Bone Infection or Osteomyelitis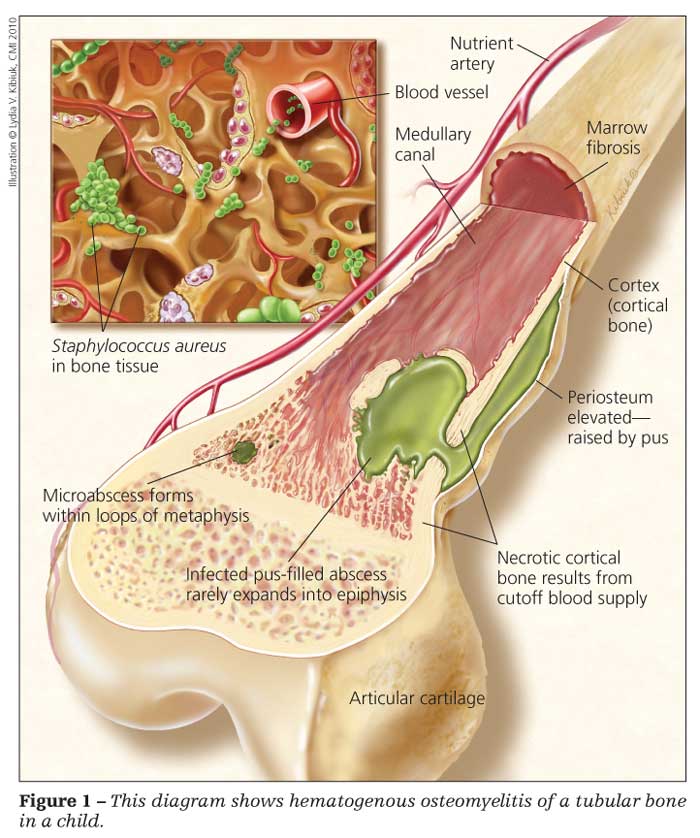 Osteomyelitis is septic inflammatory bone disease – that can be due to direct trauma, surgery or infection spread by blood.
Bacterial infection reduces the blood supply and oxygen delivery to the bone (ischemia and hypoxia, respectively) which interfere with bone healing. Hypoxia reduces local perfusion, as well as function of white blood cell in bacterial elimination, bone cells activity in removal of dead infected bone and formation of a new bone (osteoclast and osteoblast activity). Finally, hypoxia limits antibiotics therapeutic function to penetrate pus and inactivate microorganisms.
Hyperbaric oxygen therapy effectively corrects tissue hypoxia and improves blood flow and bone metabolism for faster bone healing.
Medical Hyperbaric Oxygen Therapy (HBO) is the most efficient adjunctive therapy to surgery and antibiotic therapy to correct for tissue hypoxia and ischemia and facilitate bone healing.
Traditional therapies include surgery for removal of the necrotic bone (debridment) and high doses of antibiotics.
The most effective health care is preventive care!
Hyperbaric Oxygen is routinely used in dental surgery to increase
the success of bone grafting and implants.
The Undersea and Hyperbaric Medical Society (UHMS) recognizes refractory osteomyelitis as approved indication for hyperbaric oxygen (HBO) therapy medical reimbursement.

Hip and knee replacement recovery,
Dr. Kallesoe, MD Orthopedic surgeon, Denmark
"Hyperbaric oxygen therapy is amazing at improving implant acceptance and infection control. It speeds up recovery and is definitely recommend to be used both pre and post-operatively for any surgery."