Hearing problems
Hyperbaric Oxygen Therapy in the treatment of Sudden Hearing Loss, Meniere's Disease and Tinnitus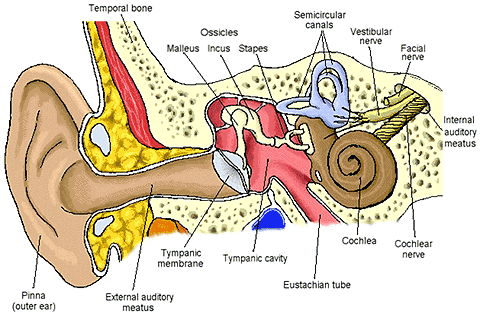 Sudden deafness is defined as a unilateral sensori-neural hearing loss that develops over a few hours or a few days. It can be accompanied with tinnitus (in 70% cases) and mild or transient vertigo with nausea and vomiting (in 40% cases).
Hearing change could be due to more than 100 reasons and most common are: Vascular problems (thromboembolic disease, hypertension and microcirculation disturbance); Infection (bacterial or viral); metabolic disorders (diabetes and hyperlipidemia); ototoxic drugs; barotrauma (rupture of tympanic membrane); cute acoustic trauma (due to gunfire or explosion); Meniere's disease, acoustic neuroma due to a compression of vestibulocochlear nerve, head injury etc.
If the usual standard of treatment (steroid therapy) is not effective, then Hyperbaric Oxygen Therapy (HBO) is considered. One of common reasons of hearing loss is caused by the "hair cell" damage (swelling and degeneration) due to occlusion of blood supply and reduction of blood flow and oxygen concentration to the ear, which is most effectively addressed with hyperbaric oxygen. However, hearing loss, dizziness and tinnitus from other etiology also improves during and after hyperbaric oxygen therapy. Most clinical studies show excellent results with improvement of tinnitus within first 30 days of the
onset. With longer times after the injury the effect of hyperbaric oxygen is lower.